UPDATE: Troop 155 Can Food Drive
UPDATE:  The scouts collected 20 grocery carts and $450 that was donated on Tuesday to the organizations listed below.  Thanks to the 300 hours of community service provided by the troop this past weekend.  And special thanks to Mr. Lewis for his hard work and dedication to this event.
---
Boy Scout Troop 155 would like to thank all of those in the community who participated and donated in the 48-hour canned food drive. The food drive benefited the Cuyahoga Falls Good Neighbors and the Woodbridge Food Pantry. The items collected included nonperishable food, personal hygiene items, and new socks. Monetary donations were also raised for the charitable cause.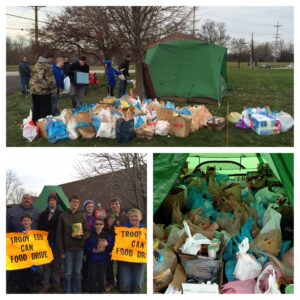 The event spanned from 6:00 PM Friday until 6PM Sunday this past weekend. A campfire burned around the clock to keep the boys and supervising adults warm. The scouts received the donations in a drive-through setup and overflowed their collection tent. Service hours were earned, fun was had, and the boys enjoyed contributing to the community.