Metroparks Community Service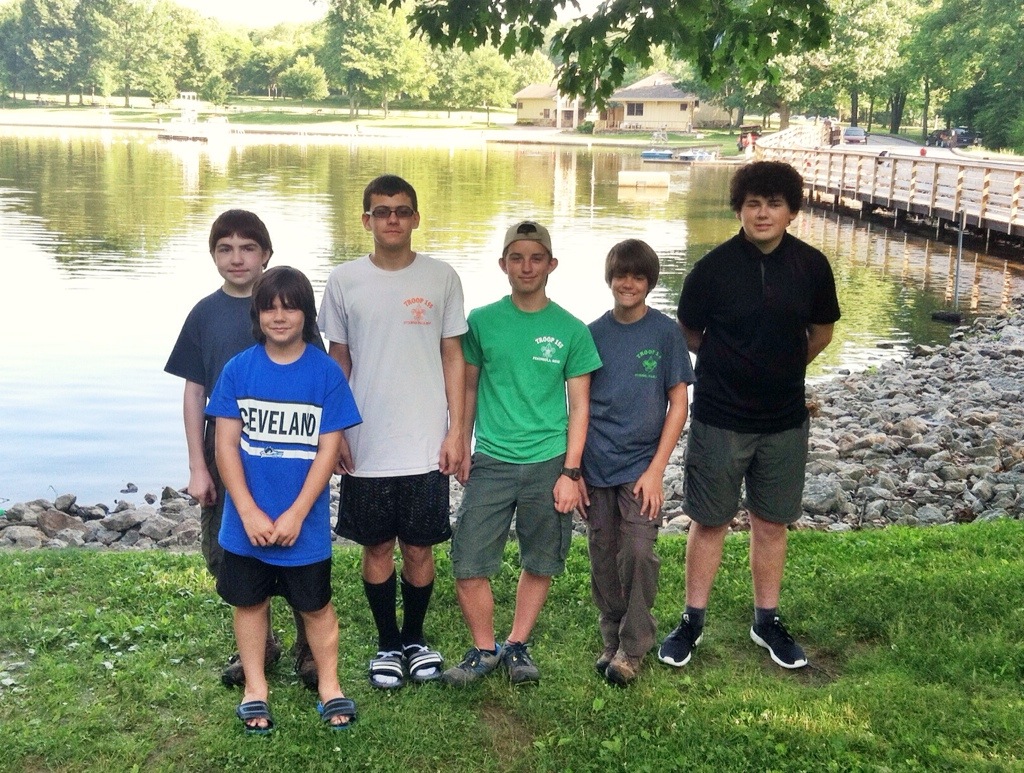 Today was a wonderful day of fishing for the families of scouts William Davis, Evan Wagner, Walter Sterling, Jacob Carleton and Evan Shannon. The weather was beautiful at Munroe Falls Lake and as we arrived we were greeted by the sight of wild turkeys, including a tom in full display! Munroe Falls Lake is part of the Summit Metroparks system and is normally not open to the public for fishing. But on this day members of Troop 155 were providing a community service for the Metroparks in that all fish caught were collected by Metroparks staff to be used for stocking fishing ponds within Metroparks such as Little Turtle Pond at Firestone Metropark.
We arrived at 6:30am and fished for 2 1/2 hours. And boy, were the fish biting. Today's fishing was a little more challenging than usual as we had to use barbless hooks for the safety of the fish. Evan Wagner was the scout that caught the most fish, but he lost track after 30. He also caught the largest bluegill at 9 inches. However, he has to share that record with Walter Sterling who also caught a 9 inch bluegill. And there were lots of 8 and 8 1/2 inch bluegill reeled in as well.
For non-scout records, William's brother Nick brought in the largest haul at 50 fish! The largest non-bass was a tie as William's dad, Gary, reeled in an 11 inch bluegill which was later matched by Evan's dad, Jon, with an 11 inch crappie. The largest bass was an 18 inch largemouth reeled in by Evan Wagner's grandfather. William Davis takes the prize for the best "Fish that Got Away" story. William had a largemouth bass on the line that was HUGE! It put up a terrific struggle. William had it half way out of the water and we could all see it. But at that point, the fish was so heavy that the line snapped! Special mention goes to Dani, the eight year old daughter of one of the Metroparks staff. Dani put the scouts to shame with her total willingness to take any fish off any hook!
Even after 2 1/2 hours, I think fishing ended too early for everyone there. But we all had a great time! Park staff collected all the fish we caught and when it was all over, they estimated that we had caught upwards of 400 fish! They also estimated the value of our service to be up to $7000!!! That's what they would have had to pay to buy all those fish from a commercial fish hatchery. However, they also added that many of the fish we caught were of a size that could not be bought from any fishing farm or hatchery.