Eagle Projects Update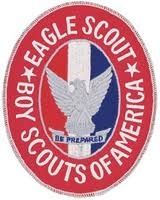 As one Eagle Project comes to a close, another one is starting.
Jimmy's Project is having it's dedication at the Woodridge Intermediate School this Thursday at 6:00 pm during the Open House. Please come out to support Jimmy as he shows off his hard work.
Austin is starting the execution phase of his project this week as well. He is extending out a cement pad at Cuy. Falls Preston Elem. School. He is looking for help in digging the hole, moving dirt to low areas, and smoothing out the soil on Wednesday from 10am to 4pm. Then he is looking for assistance hauling cement to the hole on Friday from 3:00 to 5:00pm. If you would like to help, please call or text Austin at 696-6921.
Please make sure you are coming out to support the scouts.